Do you know all the ways in which dysfunction is eating your lunch?
What will it take to put your mission, vision, management processes,
work processes, organization structure, culture,
and execution in order?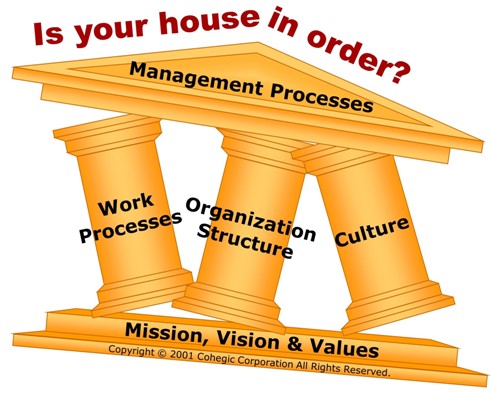 Ask your team and yourself these "Probing Questions."

Be the leader that changes your organization's destiny!
Spirit Questions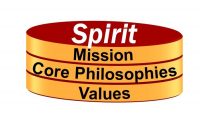 Is it clear to our leaders and employees why our organization exists? Does our mission give us a sense of purpose? Do our rank and file employees appreciate and value the mission of our organization?
Is it clear what is the DNA of our organization — the non-negotiable aspect which does not change in spite of market volatility? Would our DNA uniquely identify our company?
How well defined is our company's business model? How well is it articulated?
How does our business model differentiate our company in the marketplace, and help generate greater success with customers?
Do our leaders and managers agree on a common set of core management philosophies? Do they make decisions consistent with the business model or violate it on a daily basis?
Do our employees feel the values of the organization are reflected in its conduct? Do our leaders adhere to our values in the truest sense or only provide lip service?
Direction Questions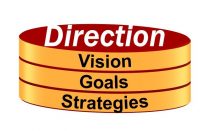 How well thought-out are our vision, goals, and strategies? How will a simple and clear strategy impact our organization?
Is our strategy coherent? Is it documented succinctly? Is the strategy shared widely or is it the best-kept secret? Is our strategy detailed into tactics?
Do our leaders and managers agree which are the key drivers of our business? Is our strategy based on gut feel or on market data?
Do employees at all levels within our company/business unit consistently interpret the goals, objectives, and strategic imperatives? How can everyone stay on the same page?
Are our sales, marketing, product development and customer service strategies in-sync? Are our priorities and expectations across groups consistent with each other and the overall strategy? Are sales and product/service development teams in agreement over features?
Are the sales and marketing teams in-sync regarding market focus, promotions, and marketing collaterals?
Engine Questions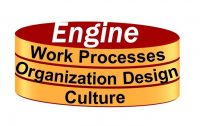 Work Processes
How good is the coordination and interaction between groups?
How often do we let critical issues fall through the cracks — sales and market opportunities, customer concerns and feedback, operational issues? Is feedback from our customers generating changes within our company or getting lost in the system?
Is our work quality poor?
Are we not getting things done right the first time?
Are we performing redundant work?
Is our company leveraging information technology?
Are our information systems in-sync with our business needs?
Organization Structure
Is our organization structure designed to facilitate our work processes?
Is our organization design based on business needs or is it designed to placate our leaders.
Is our organization structure clean (simple) and clear (easy to understand)?
Do our groups (and leaders) have overlapping or confusing responsibilities? Are we experiencing "land-grab" among our leaders?
Do we have clear accountability?
Does our organization structure facilitate quick decision making or creates a burdensome bureaucracy?
Culture
Have we clarified which flavors of culture our organization needs and wants to foster:

Growth-oriented, risk-taking culture?
Conservative, profits-oriented culture?
Cooperative, team-work oriented culture?
Internal competitive culture?
Sales/marketing, deal-making driven culture?
Product/innovation driven culture?
Top-down or grass-roots driven culture?
Command-n-control culture?
Consensus building culture?
Toe-the-line culture?
Debate-n-challenge culture?
People development and investment culture?
High (people) turn-over culture?

Is internal politics eating our lunch? Are our expectations and agendas aligned? Do we have confidence in each other? Do we trust each other?
The most difficult question:
Are we our biggest obstacle? What can we do about that?
Execution Questions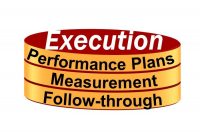 How well does our organization execute? Is there a consistent rhythm or is execution unpredictable and unreliable?
How well are we able to retain our focus, or do we become distracted easily?
How well do team members understand the difference between effectiveness and efficiency? Do we spend time on doing the wrong things really well?
Does our organization truly understand what drives greater productivity, and the impact, cost, and risk of those drivers?
Are we able to maintain the right pace of progress so we can meet our goals?
How good is our organization's capability to measure, evaluate and adjust our business performance?

Is it clear to us all which are the key performance indicators (metrics) and why?
Do we review performance systematically, objectively, and frequently?
Cohesion Questions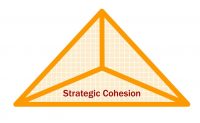 Is our Engine and Execution in-sync with our Direction? And are they in-sync with our Business Spirit?
Does our organization ignore and/or resist our strategic direction?
Are our day-to-day activities in-sync with our strategy and tactics?
Is the allocation of resources (financial, human, executive attention …) and internal projects/initiatives driven by our strategy? Or, are leaders pursuing "pet" projects without regards to our strategy?
Continuous Transformation Questions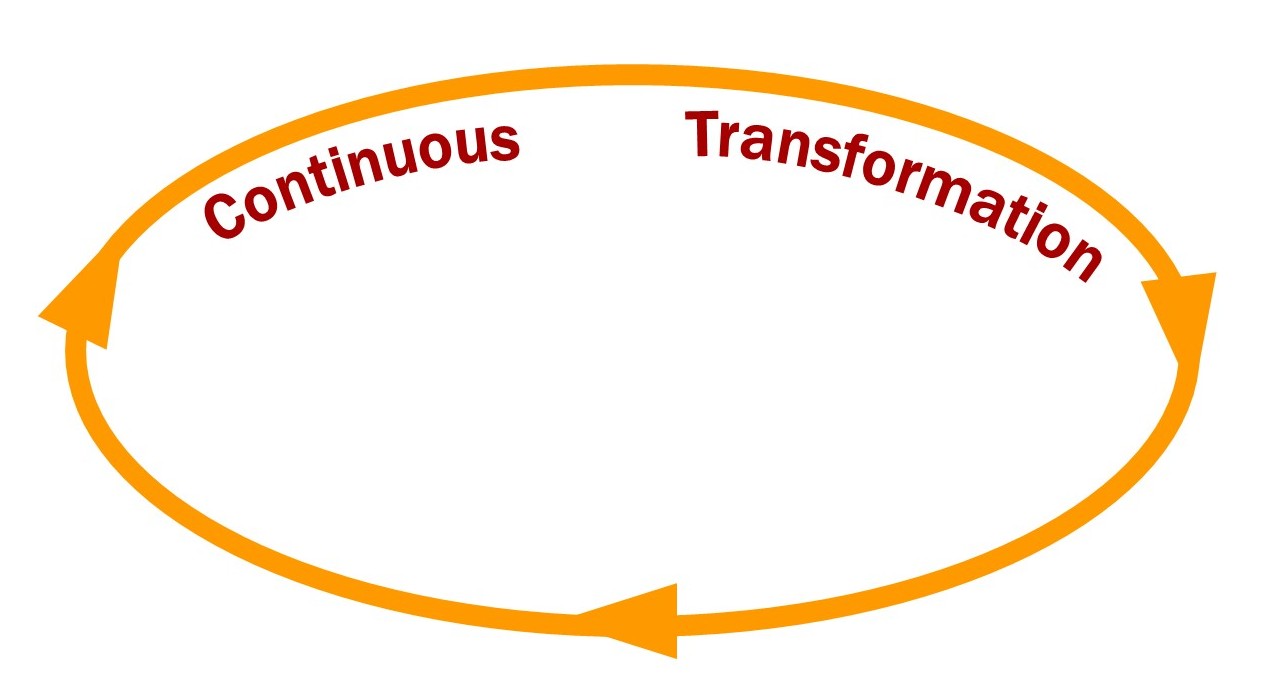 Are we improving constantly, or are we pursing growth ineffectively by just doing more of the same?
How well are we at improving and advancing our strategy? Is our strategy stuck?
Are we learning how to improve our capabilities, our processes and systems, and are understating what drives our corporate culture?
Are we learning how to take our execution up a notch? Are we a lean, mean fighting machine that is fine-tuning its performance?"
In which of the six facets above does your organization need to improve the most?
What will be the impact of improving performance ability? Can you afford to wait?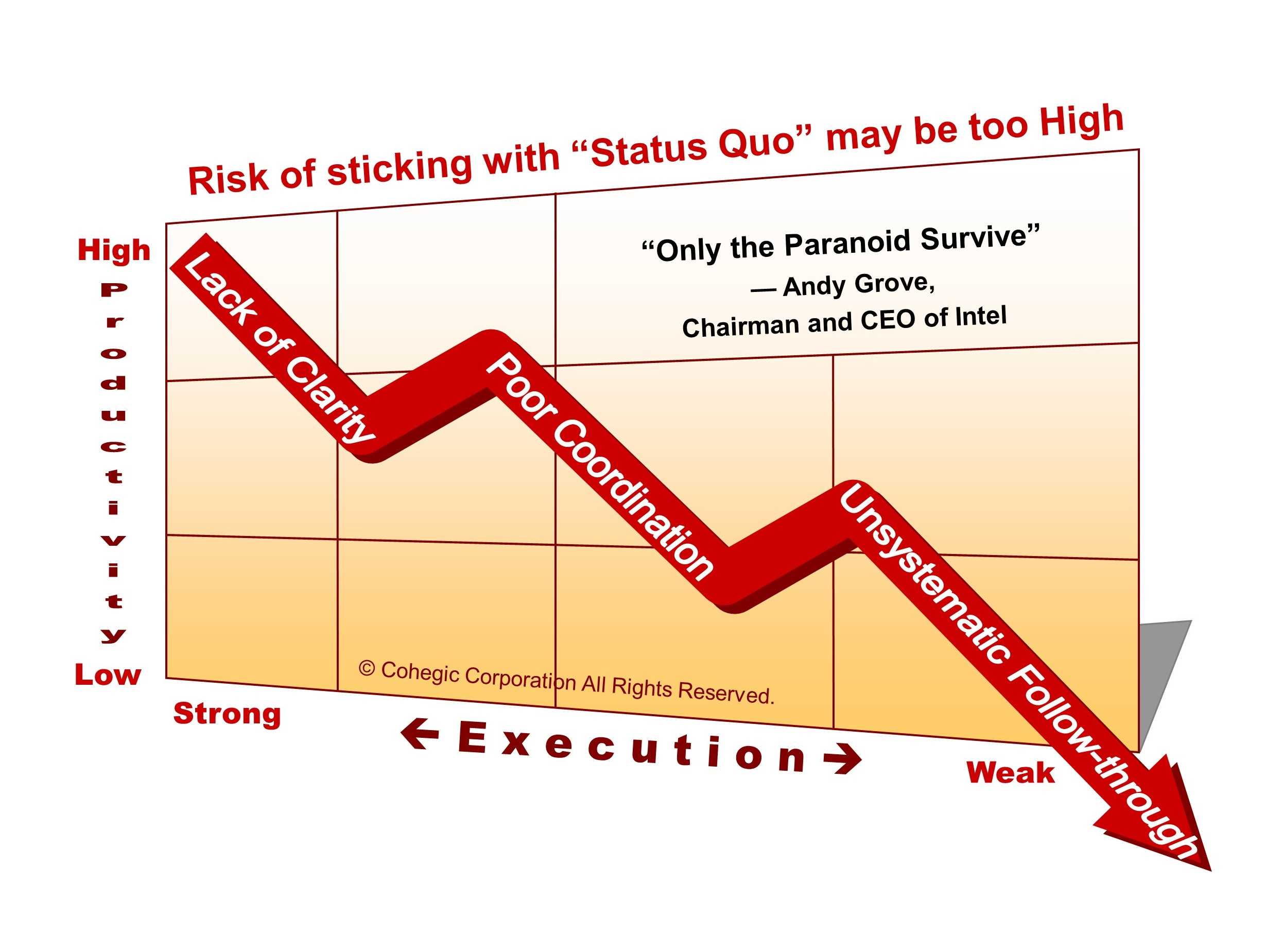 Improve Cohesively
Call Cohegic to learn how