How Cohesive is your Company? — A Leadership Parable
Top-notch business performance is impossible until you cohesively align mission, vision, goals, strategies, execution & culture
Managing and leading an organization is a tremendous challenge. The innumerable business variables, competing agendas, differing expectations, and varied interpretations about what is important in the business create the bedrock for the lack of clarity and cohesion, and sub-optimal performance.
What is the situation in your organization? Do executives and employees understand the passion and the purpose behind the organization? Is there ambiguity and/or a difference of opinion about the philosophies and the business model? Is strategy the best-kept secret, lost in the day-to-day fire fighting? Is it clear who is accountable for what, and why? Are internal politics preventing the organization from collaborating? Are mega-egos monopolizing the culture?
If your organization and/or your team is experiencing issues similar to those listed above, this business parable is for you and your colleagues.
Successful companies have two common traits — clarity and cohesion. They have clarity of purpose, clarity of the business model, clarity of the business direction, and cohesion and coherence among the organization's purpose, philosophies, strategies, work processes, organization design, culture and execution.
Achieving clarity and cohesion is easier said than done. It is hard work and it is never-ending work. I have written this book with the single purpose of helping you (whether you are the leader of a big corporation, leader of a small team, or a new entrepreneur) drive clarity and cohesion in your thinking and actions.
I present to you a business management method that is succinct and simple, and yet holistic. It has five facets that together cover all the aspects of managing a business. If you understand these five facets, and more importantly, understand their interaction as a system, you will become a better leader and manager, and you will help your organization greatly enhance its performance.
Instead of a textbook, I have written this book as a parable to depict a realistic situation, and give you a better sense of the challenges involved. If you are a student, this parable will help you gain a better appreciation for the work environment and the practical skills you need to succeed.
This parable is the story of a CEO, Trent Wertheimer. Trent believes he is perfect and can take his company to the next level. He tries everything he knows, but the harder he tries, the deeper he digs himself into a hole. In this book, you get to understand the business transformation of his company, and Trent's difficult personal transformation.
— Ravi Gopaldas Kathuria, Author
Purchase on
Amazon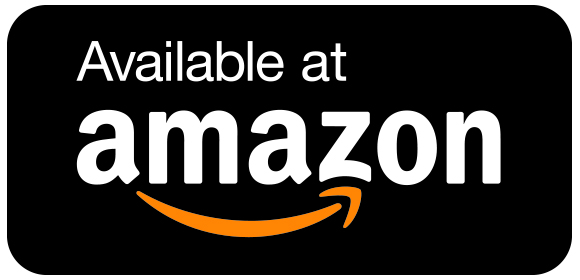 "The word 'cohesion' is extraordinarily powerful, provided leaders take the time to thoroughly consider and analyze it along with its implications. Leaders who do will be ahead of those who don't.
"Kathuria tells such a vibrant story and reinforces the importance of organizational cohesion across systems, processes, structures, metrics, behaviors and leadership."
JOHN HOFMEISTER
FORMER PRESIDENT
SHELL OIL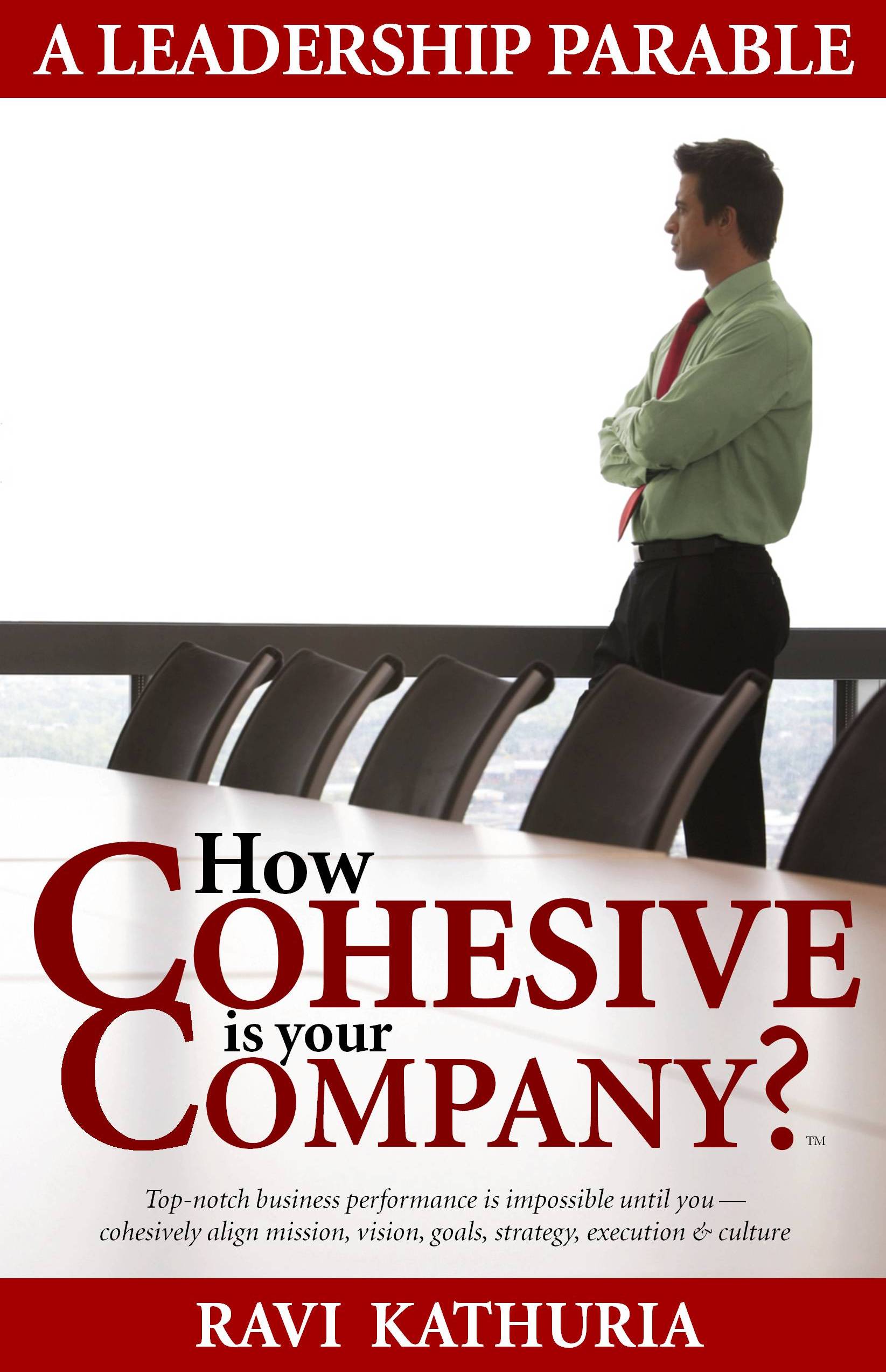 "HOW COHESIVE IS YOUR COMPANY?
has invaluable tools for integrating strategy development with implementation. It is a very pragmatic illustration of the steps needed to bring about a strategically driven turnaround of troubled businesses."
DR. HARBIR SINGH
PROFESSOR OF MANAGEMENT
THE WHARTON SCHOOL OF BUSINESS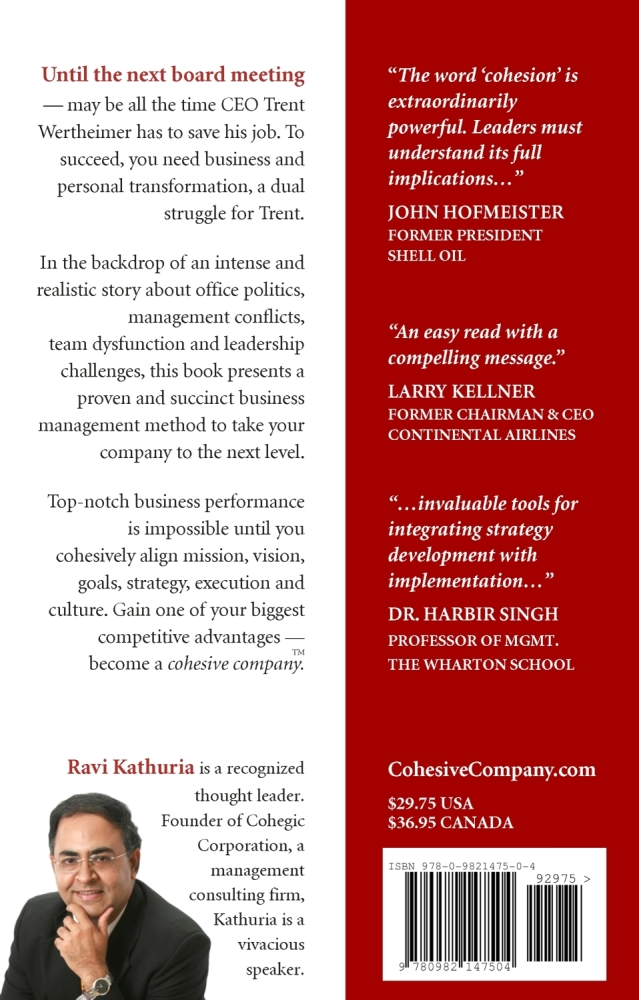 "To succeed, entrepreneurs need both creativity and discipline. The business management method offered in HOW COHESIVE IS YOUR COMPANY? is a valuable tool to help entrepreneurs strike the balance between structure and flexibility. Every entrepreneur must answer the practical questions this book raises."
PAUL FRISON
FOUNDING CEO AND EXECUTIVE VICE CHAIRMAN
HOUSTON TECHNOLOGY CENTER