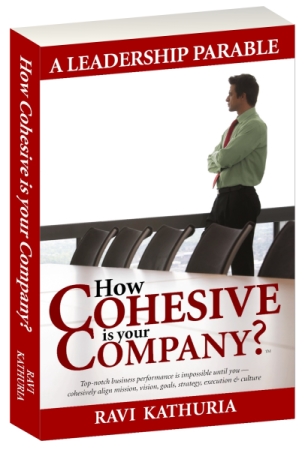 How Cohesive is your Company? — A Leadership Parable
Top-notch business performance is impossible until you — cohesively align mission, vision, goals, strategy, execution, & culture
Synopsis
CEO Trent Wertheimer wants to take his company to the next level. However, the harder he tries, the deeper he digs himself into a hole. This is a fast moving story of his personal transformation and his company's business transformation. You need both to succeed.
Until the next board meeting is all the time CEO Trent has to regain the board's confidence, forewarns Chairman Peter Avon.
Trent faces challenging questions. How do I improve my relationships and mitigate politics? How do I drive clear thinking and cohesive actions? How do I tie everything together from mission, vision, strategy to execution, and drive growth?
Engrossing and unpredictable, How Cohesive is Your Company? offers a rich preview of team dysfunction, politics, and personality conflicts; and practical insights on how to drive progress in such situations.
Through Trent's eye-opening journey, you will discover a proven, succinct management method that will drive clarity and cohesion, rewire your business, and… rewire your management and leadership perspectives.
"HOW COHESIVE IS YOUR COMPANY? is an innovative approach using a novel format to bring together all the strategic elements of running an enterprise. What makes this so powerful is that it translates somewhat sterile concepts from traditional strategy textbooks into the richness of the human experience and dialogue so crucial to their understanding and effective implementation. It is a great informative read for both experienced and emerging leaders."
LANE SLOAN
FORMER PRESIDENT
SHELL CHEMICAL

---
"An easy read with a compelling message. Gets to the heart of the organizational challenges and pitfalls leaders face. Leaders at every level in the organization must take stock of the need to transform their business and themselves."
LARRY KELLNER
FORMER CHAIRMAN AND CEO
CONTINENTAL AIRLINES

---
"As the book unfolds, you find yourself holding your breath or squirming in your seat because you can see the metaphorical train wreck coming. This book allows you to see not only the tools, but experience their application in situations that ring true to experienced leaders.
"Reading HOW COHESIVE IS YOUR COMPANY? will force you to rethink your leadership approach. It will hone your skills and lead you to try some new approaches. Every serious leader will find nuggets of value in reading this book."
KIM DENNEY
CHIEF ADMINISTRATIVE OFFICER
AIR LIQUIDE USA LLC